I know you are a busy bee, which means you don't have time for the back and forth emails required to schedule a meeting. When you want to hop on a video call with your clients or stakeholders, you want it to happen fast and without hiccups. That's where the tool in today's product showcase steps in. Today I cannot wait to tell you about Zoom.ai, the smartest way to automate meeting scheduling. It has never been easier to schedule one-on-ones, group meetings, and video calls.
Alrighty, let's get into it. On your dashboard, you'll see a list of your meeting types and can create a new one in just one click. Over the right hand side, you'll spot what's In The Works, including pending meetings that have not yet been scheduled and are awaiting a reply. Keep on scrolling to see your meetings for the day at-a-glance. You can also get this info in a daily briefing sent to you to your preferred notification center. Then over on the left side, you'll see the menu.
Let's go ahead and navigate through that. First, I want to show you Meeting Settings, where you can create a new meeting type and get to customizing! The system auto-creates a personalized scheduling link and automatically syncs your calendar to when you're available. But say you want to reserve Fridays for internal meetings, Zoom.ai lets you control various settings for each meeting type.
For example, go ahead and enter the duration of your meeting, the days you're available, how soon out you can be booked, and the lead time for each meeting. Next, you'll enter the location, which allows you to enter a phone number or physical location or to generate a dynamic meeting link based on your video conferencing integrations. There are even more advanced options when it comes to Shared Availability.
For instance, you've got the Collection option, which pools the availability and shows only times that all specified team members or collaborators can meet, and the Round Robin option, which is particularly useful for sales teams, because Zoom.ai will distribute the meeting requests amongst specific team members based on their availability. Last up, you'll add any meeting instructions you want to share with your guests and any questions you'd like guests to answer upon booking. Once you're all set, go ahead and create your meeting.
Book a meeting by copying the scheduling link to blast to your peeps, using the web scheduler, or try the Embed option to put it on a website. Here's what your guests will see. You've got the meeting instructions and details on the left, and in the center, they will select as many times as they're available to meet. If they've invited a second guest, that person will be able to select between the times previously selected by the first meeting attendee and all the other times available.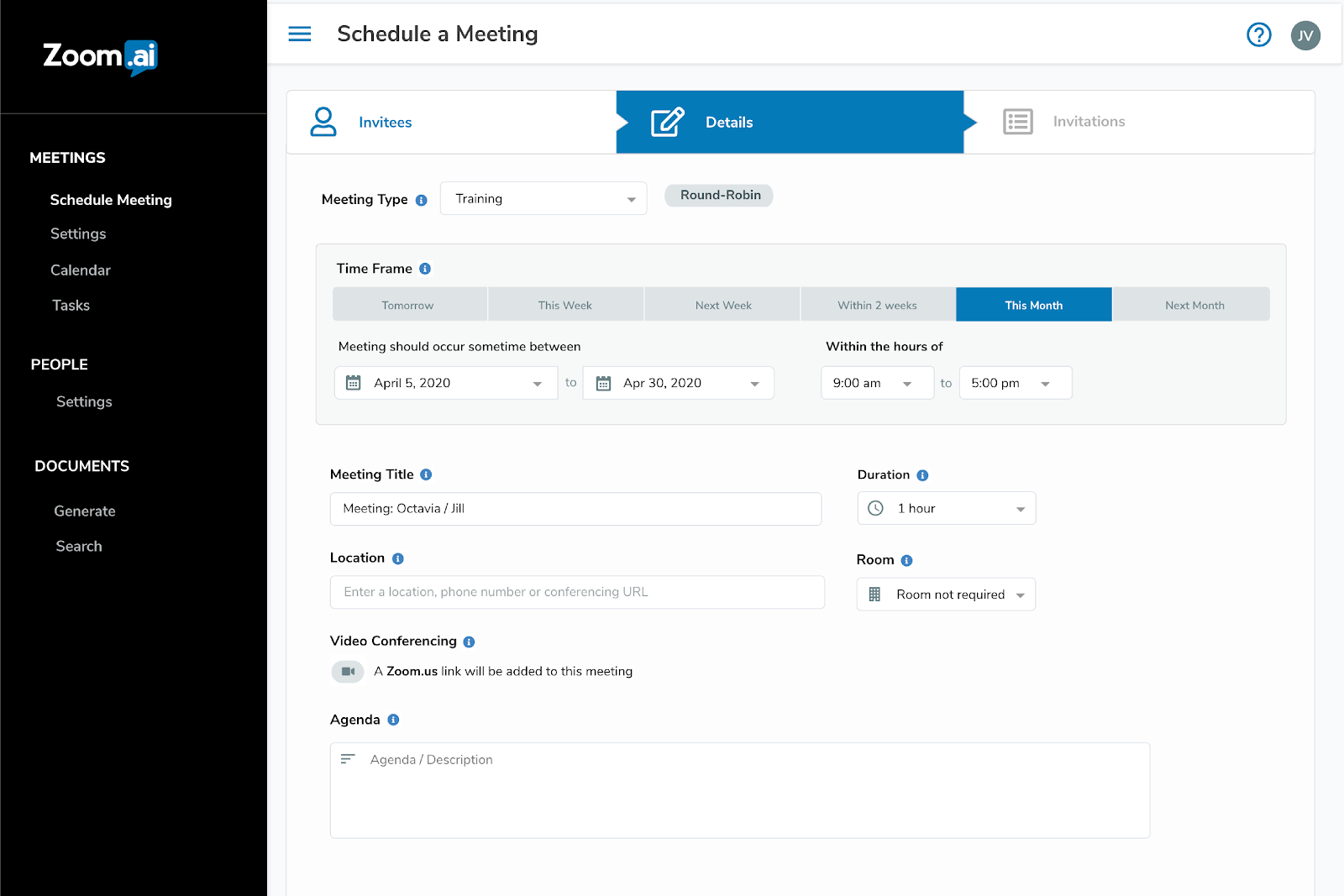 Invitees are encouraged to select multiple times to give the group the best chance of meeting at a time that works for all. Both the invitee and meeting creator will be notified whenever a meeting is booked and the event is added to their native calendar. And for the meetings you request, head to the Tasks tab to keep with date and progress of each. The last part of Zoom.ai is a super unique and helpful feature.
Here's what's up: whatever tool you integrate with, whether that's a calendar, email provider, or CRM, Zoom.ai will collect any and all contacts and store them in your People tab. Then under People Insights, you can pull up individual contact details and depending on the privacy settings of the contact, Zoom.ai will use their email address to pull personality, career, and social media info. Tired of slow scheduling? Finally have the time to focus on more important things than back and forth emails with the easiest meeting scheduler on the block, Zoom.ai.