Today I'm going to show you how you can generate original content for blogs,  ad copy, and more using ContentBot. ContentBot is a personal AI writing assistant equipped with 25+ highly-tuned tools that lets you  generate blog posts, ad copy, email campaigns, and more in 30 seconds!
First things first, welcome to your dashboard on the ContentBot web app,  which you can filter by copywriting or marketing tools.
At the top are the  popular tools and if you scroll down, you can see all the copywriting and marketing tools.  Let's hop into the Biog Topic Ideas and Intros tool, where you can enter an Article Topic  and ContentBot will generate sample blog topics with intros. ContentBot generates  both evergreen and fresh content, which basically means content that is relevant to current trends. Next up, let's look at the Blog Outline tool. Here, you're going to enter your Article Topic  and a brief description, and ContentBot will generate blog outlines that you can choose from.
Each outline has sections and subsections to help streamline your writing process. Moving on to the Bullet Point Expander tool— this is where  you enter in bullet points and ContentBot will generate a paragraph based on that!  And if you scroll through each option, you can see the Reading Ease Score,  the word count, and even favorite the best ones. All your favorited items live in your Favorites.
Alright, now let's look at the Sales Email tool.
Enter in all the information and then hit the  Generate button. And now we can see a bunch of different sales emails that you can use.  ContentBot also has a Brand Name tool that's super helpful for naming your business.  And boom, here are some great brand names and slogans! And last up, there's the Automation section, which lets you generate blog topic ideas or marketing  ideas which are automatically sent to you on a set timeline.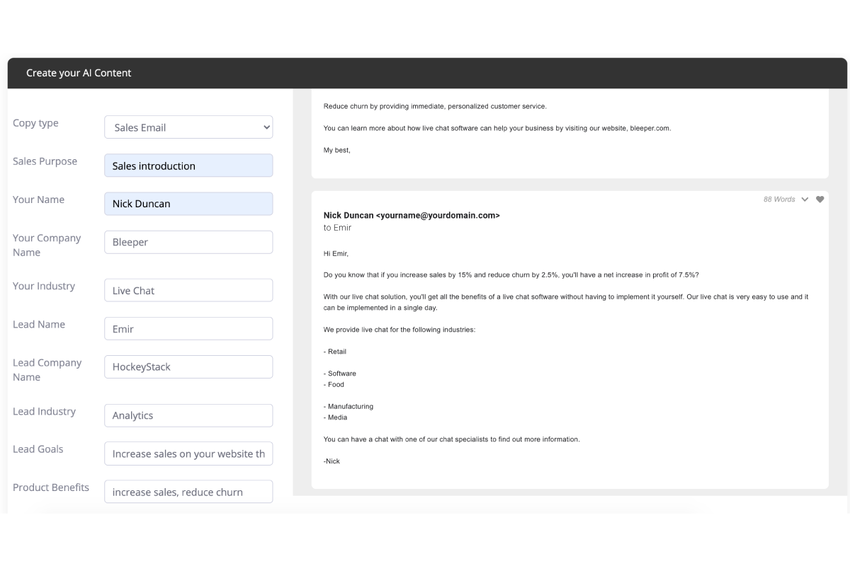 Just hit run and you're good to go!  The fun doesn't stop there. ContentBot also comes as a WordPress plugin that seamlessly  integrates with Gutenberg to bring you high quality content snippets at the click of a button.  All you have to do is insert an AI Content Block and start generating content! So, what're you waiting for?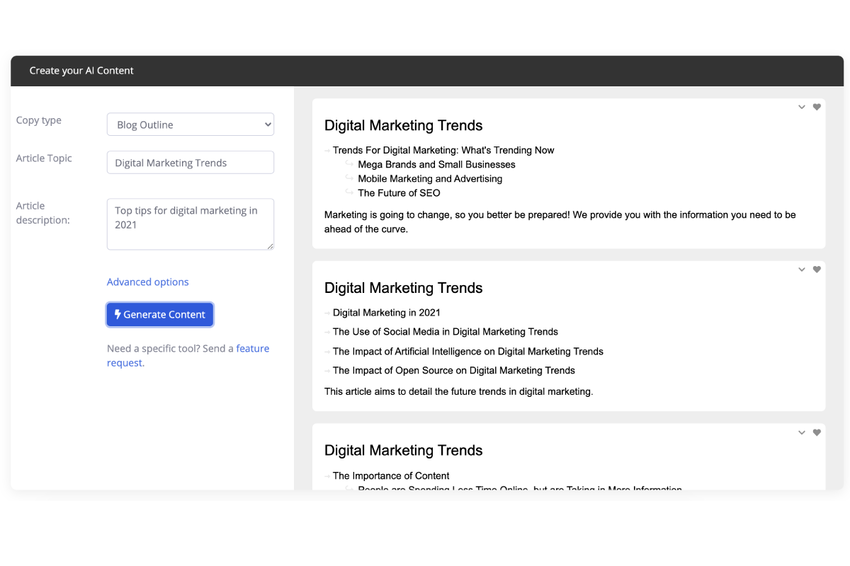 With ContentBot you can say goodbye to writer's block and  hello to AI-generated content. Level up your writing game with ContentBot today!