You know there are a million and one tools to manage and market your business. And if you're a growing company overseeing multiple brands while still maintaining strong relationships with your customers, it's crucial to have the right tools to keep you connected around the clock. That's why we're bringing you a tool that focuses on the entire customer experience from driving more engagement to leveraging growth marketing in today's product intro. Today I can't wait to tell you about erxes, an all-in-one growth marketing and business management platform. And I mean is really a ALL IN ONE plaform. Erxes handles your team inbox, sales pipeline, customer engagement, task management, and growth hacking IN A SINGLE PLACE! So, obviously, we have a lot of ground to cover here, so let's dive in.
An all-in-one growth marketing tools, Erxes
Once you login to erxes, you'll see the conversation menu, where team members can see their omnichannel and team inbox. You'll connect your tools using the AppStore, including connecting Facebook messenger, erxes messenger, and various email services. With erxes, businesses can capture customer feedback and educate customers right through the messenger with their Response Templates. And even with so many forms of communication funneled into one place, it's way easy to stay organized. The team inbox is divided into channels, brands, integrations, and tags. You can also easily keep track of your customers.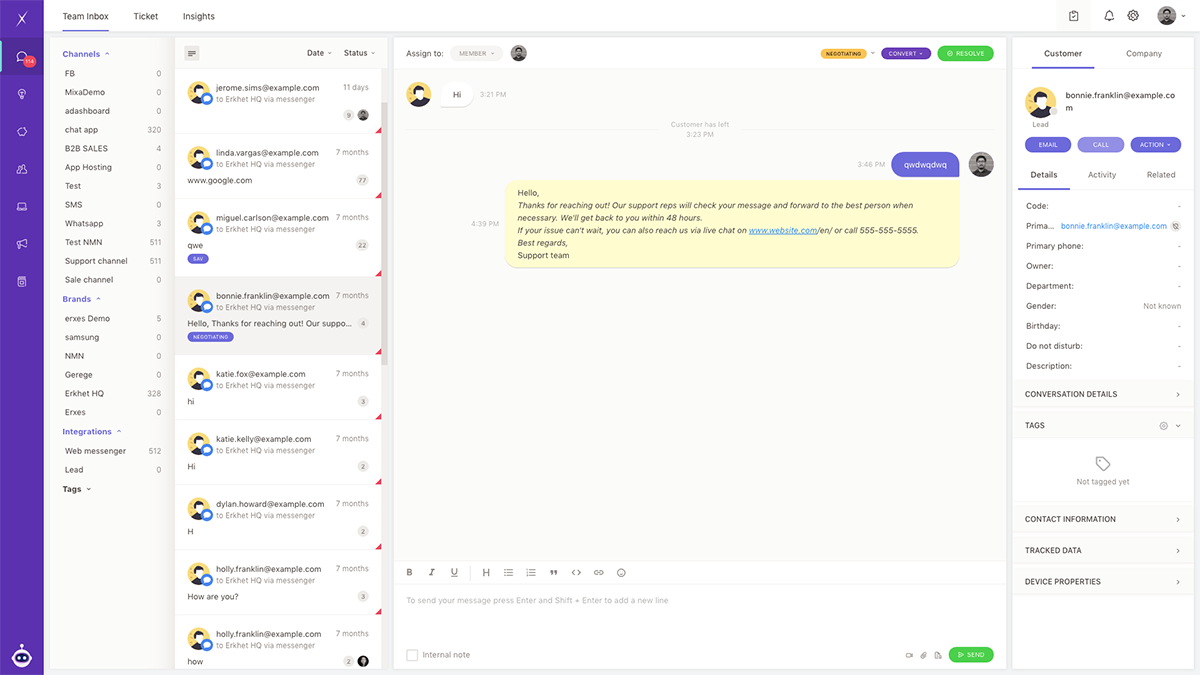 To the right of any message, you'll see the customer's contact details and history. Speaking of contact details, let's take a look at the Contacts tab. Contacts are divided by visitors, leads, customers, and companies. Erxes makes it quick and painless to filter through your evergrowing contact list. Find exactly who you're looking for by sorting by tags or even segments based on events or custom properties. This is an easy way to stay on top of website visitors than can be converted into qualified leads by engaging via email, SMS, messenger, and pop-ups. Let's take a closer look at the different marketing solutions erxes provides. First up is the growth hacking tab. Here's where your team can record their growth hacking ideas. With the help of pre-built templates, you can leverage your growth marketing strategies and score them using the ICE/RICE Scoring Method. This helps you prioritize your tasks, while keeping all of this planning centralized in a single dashboard. Next, we've got the sales pipeline, where users can manage and track their complete sales pipeline using Kanban-style boards. All you have to do is name the sales pipeline, then assign it a stage, team member, and products, along with any price tags and discounts.
Erxes also makes it possible to engage your customers by creating pop-ups, embeds, chatboxes, and sliders. Or take advantage of erxes's email templates and send an unlimited number of messages and newsletters. Erxes even gives you the capability to create and embed a knowledge-base into your website, so your customers can always quickly access the answers they need. Now with so much functionality, you're probably wondering how you can keep track of everything you have to do! That's why erxes has created a home for all of your tasks. You can keep your tasks organized by brands or sales pipeline, and you can assign each task a priority rating, label, and checklist. Whew, erxes sure can do a lot! So what are you waiting for? Treat yourself to an all-in-one solution that keeps your team in sync, your customers happy, and your business booming with erxes.