Whether you're a mover and shaker with a lineup of hustles, or a brand with a number of services, events, and promotions, one link in your Instagram bio is just not going to cut it. There are a few link hubs out there, but you don't want to sacrifice design for simplicity. You want the best of both worlds, which is why we have a micro-landing page builder  for your Instagram coming up in today's product intro.
Today I'm excited to tell you about  Taplink, a link-in-bio tool that helps to create  an effective micro-landing page to share content through Instagram. Plus, create this page directly through your smartphone! Talk about a gamechanger. Let's start building our page! It's as easy as adding a new block from  Taplink's massive list of options. You've got text, an image carousel, video, maps,  a timer, literally everything you need to build a high-converting landing page.
But mini. So I'll add a header and subheader, banner image, and a list of my services in an image carousel.  Next I'm going to create a link, but I don't just want to receive a bunch of emails – I want  to get phone numbers so that I can create an awesome SMS marketing campaign.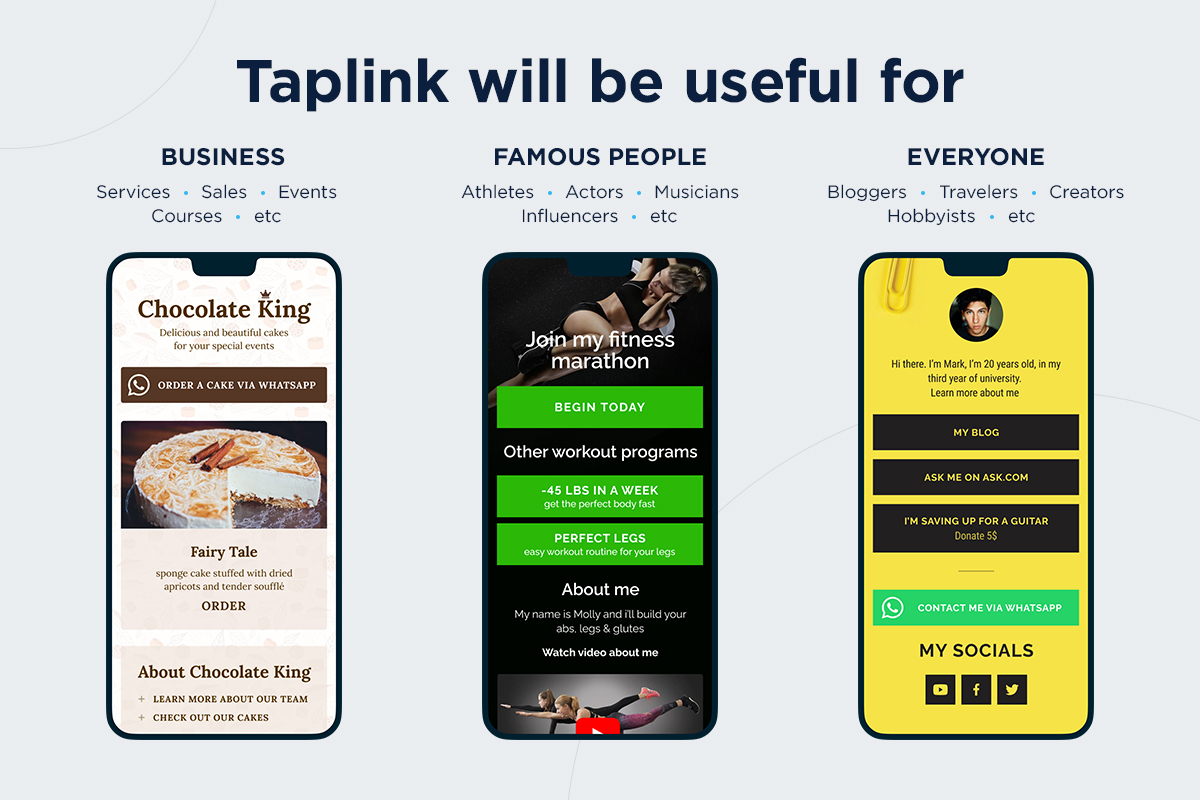 Alright, I want to create a well-structured page so I'm going to add a divider before adding my  social networks. Taplink includes 25 of the most popular social networks to choose from,  plus connect messaging apps like Facebook Messenger, Whatsapp, and more. These aren't  just ordinary links! These buttons automatically redirect you to the chat in one click.
Finally, cover all of your bases with forms to collect user information and leads. Now that we've built the skeleton of our micro-landing page, it's time to design!  On the design page, there are a range of ready-to-use templates created by Taplink's  designers. So if your design game isn't on point, it's no sweat, you'll have a  professional and inviting page in no time.
If you do like to play around with design, Taplink lets you edit away! Change up the fonts, background, and colors to match with your brand. Taplink also lets you create sections to combine different blocks visually,  giving you a sleeker, more structured landing page.
This is super easy to do with the builder:  Just click on one of the blocks you want to include,  and pull these boundaries in whatever direction you want. And there's the finished product! Once your Taplink micro-landing page has been shared with the masses, get lightning  fast statistics on your views and link clicks. Plus, with marketing add-ons, you can integrate your page with a number of your faves.
And if one page isn't enough, create two or three or twenty!! Get the most out of your single Instagram link. Build a micro-landing page that'll WOW and convert your audience with Taplink. More info, check out https://appsumo.com/taplink/