It's no secret that marketing today is all about video, videos are engaging and fun, and no doubt, it also expensive, once you've forked over all that dough to shoot the content you got to put in the hours to edit the footage, wouldn't it be nice to call that's a wrap and know the process was only going to get easier well now you can? Thanks to tools coming up in today's product intro.
Today we've got a three product to intro you, including wave.video editor, wave.video hosting and animatron studio. This triple threat is all about crafting video marketing campaigns that convert.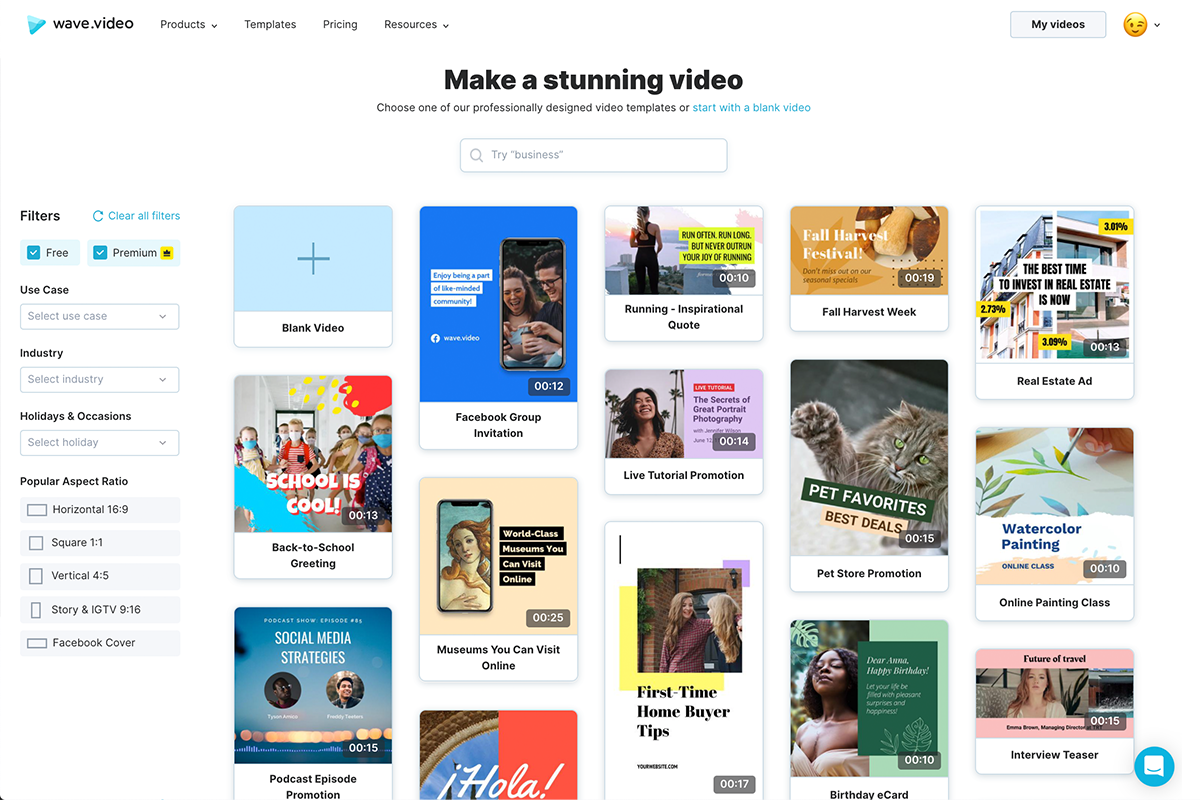 Alright, let's dive right in by making a video, i can get started by uploading My own video, using a wave.video template, selecting for more than 200 million royalty-free stock videos and images or flexing my creativity with a blank template.
For this demo. I'm going to use a template. I can filter the templates by use case industry holidays and occasions or simply the aspect ratio. I can also search for a keyword up here, once I've selected my template, I'm ready to edit.
Well, feast your eyes on the wave.video editor. Everything is customizable, meaning you can resize the video itself. Add other videos and images with the replace button, select background music from one of wave.video's 300 000 choices, trim my footage and add transitions between multiple clips.
Wave.Video also features layouts. Another way you can customize your video and stand out from the rest. As always, there's a wide variety to choose from, and check this out. Wave.video editor will generate captions in more than 20 languages, fix any mistake on the spot and play around with the text, Color, style and even add a karaoke effect.
Plus with the branding presets. I can create consistency across all of my videos. Last but not least, I'm going to include a call to action (CTA) in my video to capture some leads. I'll just give the CTA a logo, teaser phrase and target URL and boom, I'm ready to render my video now. I can share directly to various social platforms or I can use wave.video hosting.
Every video you create with wave.video gets its own customizable landing page that includes everything you need to convert views into sales. This also means your viewers aren't being shown random ads that take their attention and business elsewhere.
Alright, so I'm going to head to the landing page tab for my video and give the page a flashy headline and description to help google crawl the page, and a call to action button to take users down a conversion Funnel, then I'll pick out my layout and theme and enter my Facebook pixel to track my campaign's performance.
Under the player tab, I can control the experience for my viewer. Not only can i change the color of the video player, i have full control and freedom to switch on and off various controls. These videos can be looped as needed, password protected, embedded onto a website or even used in an email campaign. I'll also be able to track the success of my campaign in video analytics.
As a special bonus just for you, wave.video is throwing animatron into the deal a full value and user-friendly animation software That's perfect for animated explainer videos and banner ads to promote your business.
Drag and drop any of the 500 000 royalty-free clips and photos or 200 pre-animated sets onto the blank canvas and you're off to the races, easily transform any of these animations into the popular whiteboard style or into an entirely different character by building an outfit or look from the ground up.
There's a whole lot more and I don't have nearly enough time to cover it, so get your hands on this powerhouse deal that includes wave.video editor, wave.video hosting and animatron studio to begin creating today . See for yourself just how much awesome content you can whip up.
More info, checkout https://appsumo.com/wavevideo-animatron-studio/