We've all grown accustomed to video calls, which often includes long download times and browser extensions that hardly work. Getting in touch shouldn't be harder than clicking a button – and that's exactly what you get with the tool in today's product intro. Today I'm excited to tell you about Clickacall, a tool that helps you make or receive video and voice calls at the click of a button from anyone, anywhere, and anytime. No downloads or signups required!
Receive calls from anyone, anywhere using ClickACall
Not a fan of sitting in front of your laptop waiting for a call? Not a problem with Clickacall's app available on both IOS and Android it uses push notification to call you the same as when you would receive a normal phonecall.
The name of the game is simplicity, and that starts right out the gate with an easy invite system. Send your call link to your clients, team members, and friends simply by entering their email address. The invitee will be prompted to call you through an email notification. They'll hit this button and this is how the call will appear on your main dashboard. Once you're on the line, you have the ability to leave tags and notes on the call. Anything you write is automatically saved and updated in real-time without you even needing to click a button. Clickacall will also pull information on the caller's browser, device, and IP address.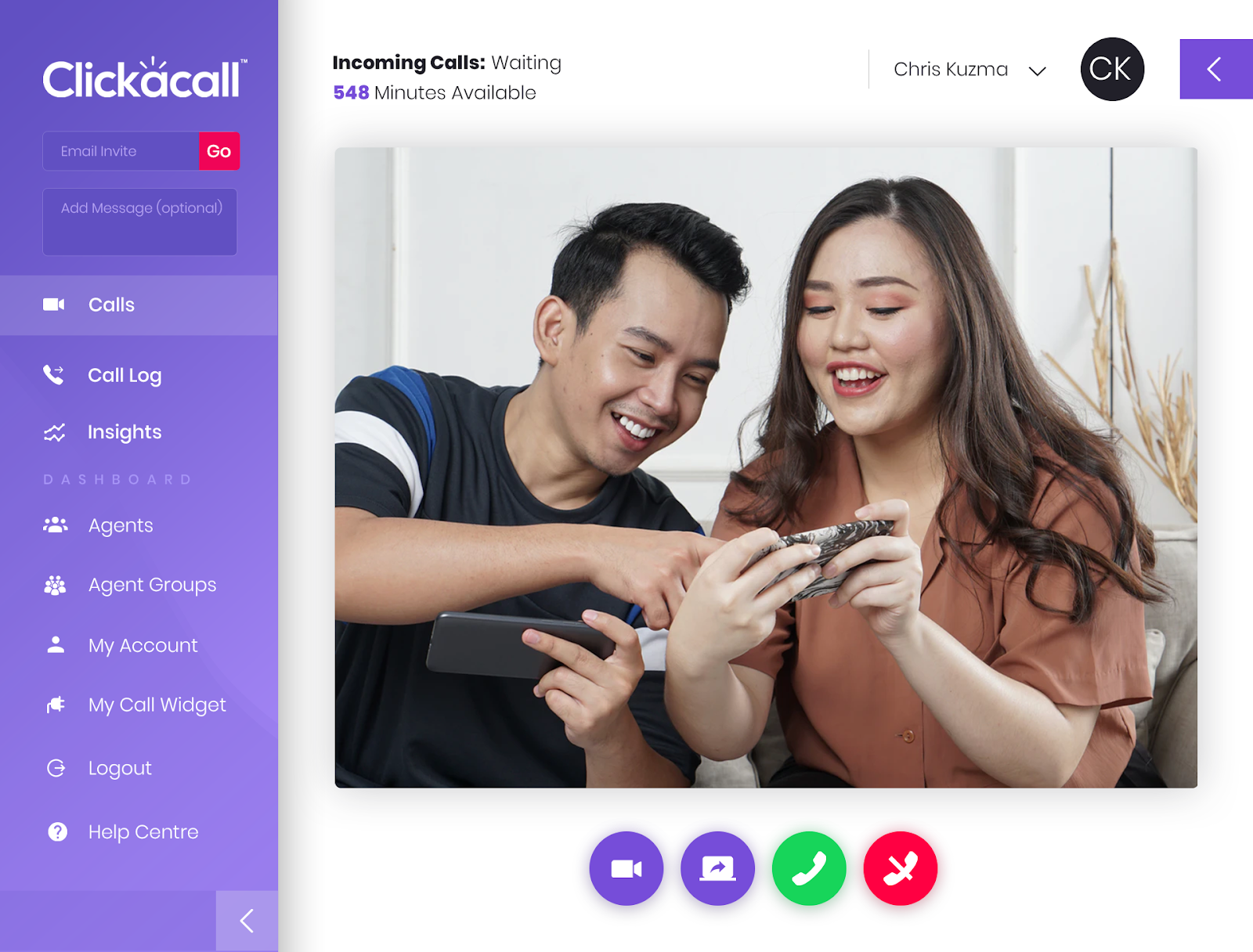 And yes, you can definitely share your screen! Plus, you can create user groups relating to a campaign, and then track, manage, and report on that campaign activity right within the dashboard. This is awesome for marketing campaigns and global clients. Whenever you want to take a break from all of this socializing, just turn your available status to off. If someone tries to reach out, they'll be greeted with a busy message. The caller can leave a written message with their contact information, and these messages are recorded in the Missed Calls tab. You can even respond to the caller quickly over email using the same form you used to send your call link! Next, let's check out the call log. Here you'll see the call that just happened, the duration, agent, and any notes and tags that were added. You can hit the play button to watch the recording, where you'll see a split-screen of the call.
These are of course downloadable. The insights tab summarizes all of these calls by the tag, agent, or status. Statuses include missed, completed, and in-progress calls, which could be used to tag a lead in need of a follow-up. Alright, let's take a deeper dive into users. When you add a new user — which is as simple as entering an email address — they are assigned an agent number. This number can be called after clickacall.live in the domain for lightning-fast access. Clickacall also features widgets on widgets! The video call widget, the voice call only widget, and the call button. Alternatively, you can create your own button and just add the link! Now here's where I know you'll get really excited, Sumo-lings: Clickacall has agent groups! Agent Groups is where you can send calls to multiple people, which is great for small and mid-sized businesses where multiple people oversee various tasks. When a caller uses any of the widgets associated with the agent group, all of the agents in the group will be notified simultaneously, and whoever is available can pick up! Rest assured, no matter how many users your invite, you'll still maintain full control over the account.
Just head to My Account to upload your logo, connect a custom domain to white-label your account, and create the color scheme, which will affect the website and emails that go out. So you can also fully customize the page titles description even down to the favicon to really customize Clickacall for your business.