WordPress peeps- I'm sure you know that a key to increased web traffic and engagement is social media. But it's hard to find share buttons for your website that aren't bulky, distracting, or straight up unattractive. Plus, once someone hits share on your post, you have very little say over how you appear on each social network. Well, all of that is about to change. We've got a solution that lets you finally take control of how visitors share and view your content in today's product introduce.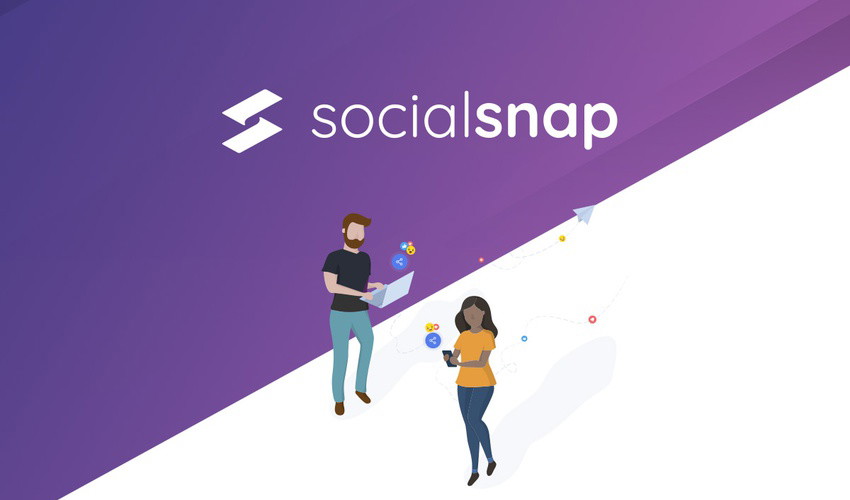 Today I want to tell you about Social Snap, the ultimate social media plugin for WordPress that will drive traffic to your website and skyrocket your engagement. And it doesn't stop there: With Social Snap, it's not just about how the share buttons appear on your website; it's about how your content looks on your visitor's favorite social network.
Let me show you how you can look good from all angles with Social Snap. First up, let's customize your social share buttons! You have all the major options: a floating sidebar, inline buttons, an On Media button that's perfect for Pinterest sharing, and even a sticky bar that hangs out in the footer. Thanks to the Live Preview, you'll know exactly where and how your buttons will appear without ever leaving the page.
Once you've selected a location, you can choose whether the buttons appear on mobile devices, adjust the spacing between buttons, add animations and hover effects, and so much more. Bonus! With the Minimum Share Count option, your share count will only appear once you've hit the magic Share Count of your choice.
With icons from more than 30 social networks, your visitors can share your content far and wide, across all of their favorite apps and platforms. And if that sounds like a cluttered mess, don't sweat it. With the "More Networks" button, you can choose which networks are displayed and which ones are hidden inside the widget, so your site stays clean and clear.
Social Snap doesn't stop there, they've got a few more options that'll be a game changer to your social engagement. First up, there's the Social Follows option that lets you display where your brand lives on social media so your readers can easily click to follow.
There is also Click to Tweet, an eye-catching way to emphasize the important content inside your posts. With seven styles to choose from, your pull-quotes won't just stand out, but fit in with the rest of your web design.
Under the Advanced Settings, you can enable share count recovery, shorten your links with Bitly, and enable analytics tracking, so that your statistics page can provide a high-level overview of your social sharing strategy. Also, under Settings, you can change your Social Meta Data, which means you can customize how your post appears when it's shared on social.
It's super simple to edit, but highly effective for getting views. Finally, as a special gift you, Social Snap comes packed with three add-ons that take social sharing to the next level. Feature a social login on your site to make it even easier for your guests. Boost your old posts on Twitter and LinkedIn directly through the Social Snap platform. And use the Social Auto-Poster to send your content directly to your social networks.
WordPress users, if you want the freedom of customization and a no-brainer solution for increasing web traffic, then it's time for you to leverage the power of social media with Social Snap.