There's no better way to foster community and generate more reach than by hosting events, whether in-person or online. That's why you need an all-in-one, web-based solution for everything events related from ticketing to streaming to marketing. And I'm bringing you exactly that in today's product intro.
Today I'm going to be telling you about ViewStub, a website for anyone in the world to create or gain access to exclusive in-person and virtual events, plus live and on-demand videos. ViewStub will have you up and running and ready to promote your event in just minutes.
Alright, let's dive in. Once you're logged in, head to the menu bar to launch the Account Hub, where you can create a new event. Give it a title and choose the event's privacy settings. ViewStub allows you to publish any event on their Explore page, or you can keep the event private to your community.
Next, you'll add tickets, including in-person, virtual, subscription, and donation-based ones. When you set the price, ViewStub will show you a breakdown of how much your customers will pay and what your take-home will be. You can also assign tickets beginning and end dates for early bird specials, staggered pricing, and other limited-time deals.
Plus, ViewStub allows you to add questions to your tickets, in case you need to collect t-shirt sizes or addresses. Now you're going to make your event your own. Add images to the carousel on the event page, logos for sponsors, and any and all media involved in the event. This is especially useful for virtual events or live events you want to stream online! For instance, here I'm going to add the livestream that will air the event to our ticket-holders! You can also add additional streams from different angles to let the audience choose their own adventure. On the event day, it's as simple as hitting Start Stream to begin broadcasting.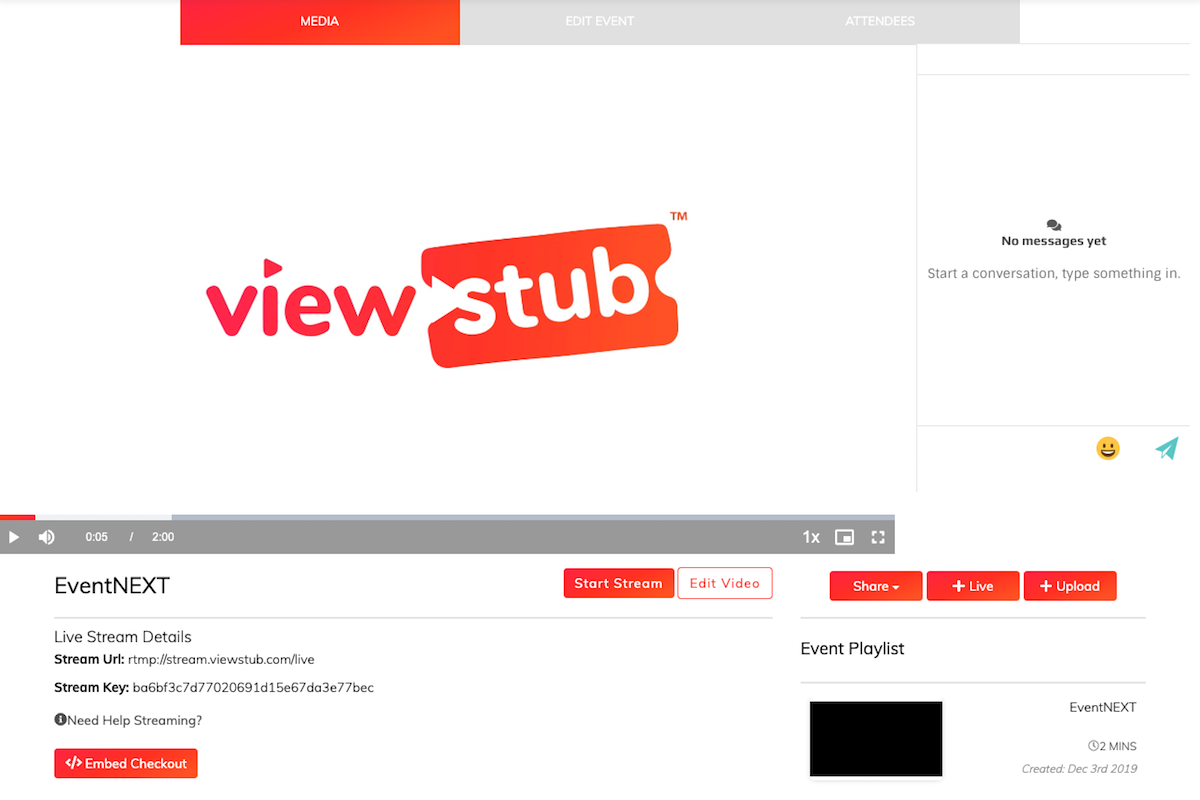 Plus! You can interact with attendees in the sidebar chat. ViewStub lets you take customization one step further with white-labeling, so you can use the platform without using their branding. Update the URL and add any necessary media. You can also embed the checkout, watch page, or both on your own website with a simple copy and paste! Next, I want to show you ViewStub's event analytics.
Get an at-a-glance breakdown of individual purchases and views, plus their sources! This way you know exactly which referral sources and affiliate links are most effective at driving traffic. You can also create individual custom affiliate links for influencers, speakers, vendors, attendees, and promoters to share the event, and even determine their commission rate.
So what're you waiting for? Expand your audience with easy event ticketing, marketing, and streaming with ViewStub. Check out https://appsumo.com/viewstub/